Authoring and Publishing Using Microsoft® Word
When Microsoft® Word is not enough, use Doc-To-Help to turn your Word files into searchable online Help sites, policies & procedures documents and other forms of print-based content. Advanced single-sourcing features such as conditions make it easy to manage large document sets and include information relevant for different audiences and output types.
Unlock Content Stuck in Word and Transform It into Any Output
Turn your Microsoft® Word content into more user-friendly documents by automatically generating table of contents, indexes and more for enhanced search.
Write or Import Your Content
Use Doc-To-Help and Microsoft® Word to write content or import documents you already have. You only need to author a single set of content and Doc-To-Help will automatically publish multiple types of output.
Choose from a List of Outputs
Use up to nine different types of output to publish your content. Conditional tagging features allows you to customize the content for each of the target platforms (e.g. online Help and printed manual) or create multiple versions of one type of output (e.g. Enterprise and Standard editions of Online Help or teacher and student training manuals).
Publish Content Where Your Readers Need It
Each output is professionally designed and is formatted for its platform. These include Help files for desktop software, online Help for the Web, content for mobile devices, eBooks, and printed manuals.
Create Common Document Types Quickly with Templates for Print and Web-based Content
Doc-To-Help provides predefined templates to determine how your content will look and work, making it easy to create common document types such as policies & procedures guides.
Take Advantage of Professional Pre-Written Manuals for Employee Handbooks and More
The professional pre-written manuals included with MadCap Doc-To-Help are rich with content, and include everything you need to customize important documents to fit your organization.
Preview the Manuals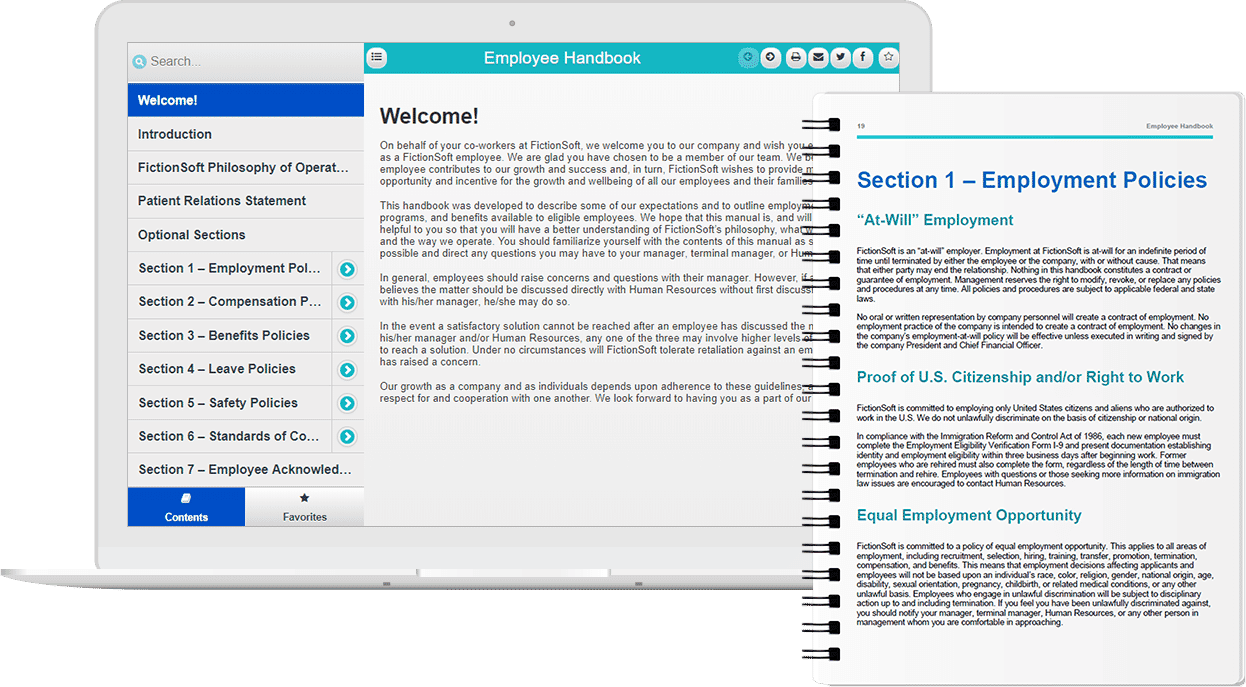 Author in a Familiar Environment Using Word and Use Existing Content
Doc-To-Help adds a special ribbon in Microsoft® Word to bring all of Doc-To-Help's advanced features in a familiar authoring environment.>
Facilitate Source Control and Collaboration
Use Microsoft® SharePoint® or Microsoft® Team Foundation Server® for check in/out features, version history, and review workflows.
Import or Convert Existing files Easily
Don't waste time with copy and paste. Doc-To-Help will import the Word-based manuals you already have and typically be ready to produce any of its outputs in minutes. You can also convert RoboHelp® projects, HTML files, HTML Help projects, and WinHelp projects.
Save Time
Let Doc-To-Help do the work for you by automatic creating topics, topic links, Table of Contents, breadcrumbs, glossary links, and index inclusion/exclusion.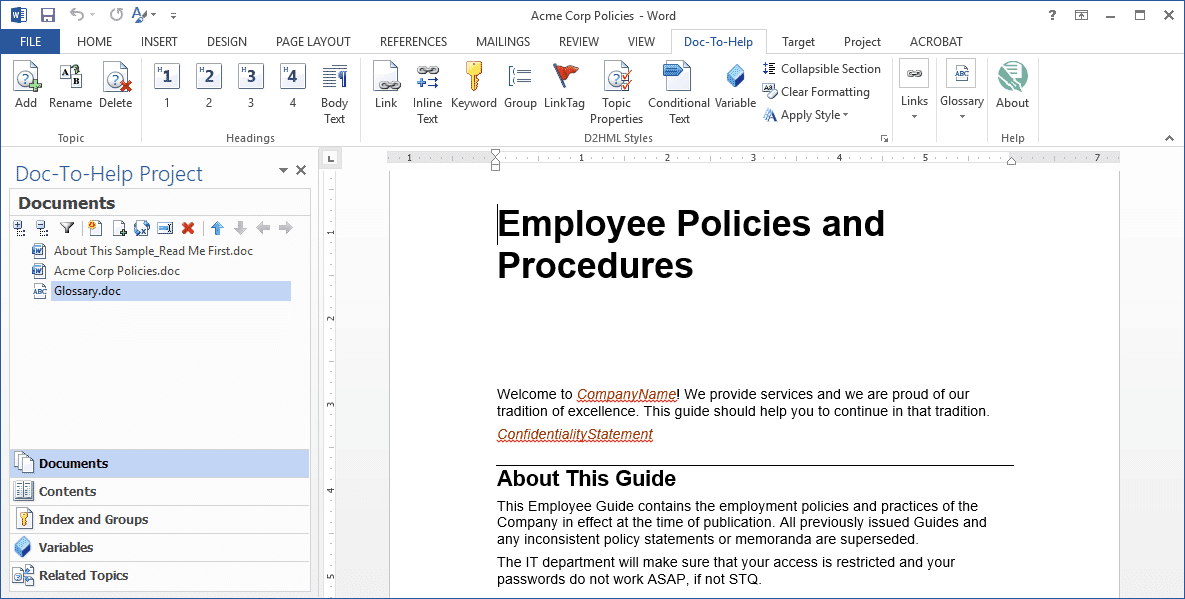 Choose Professional Built-In Output Themes or Customize Your Own
Choose from a list of professionally designed, built-in themes and interface languages or use Doc-To-Help's visual theme designer to create new themes that match your web site or application look and feel.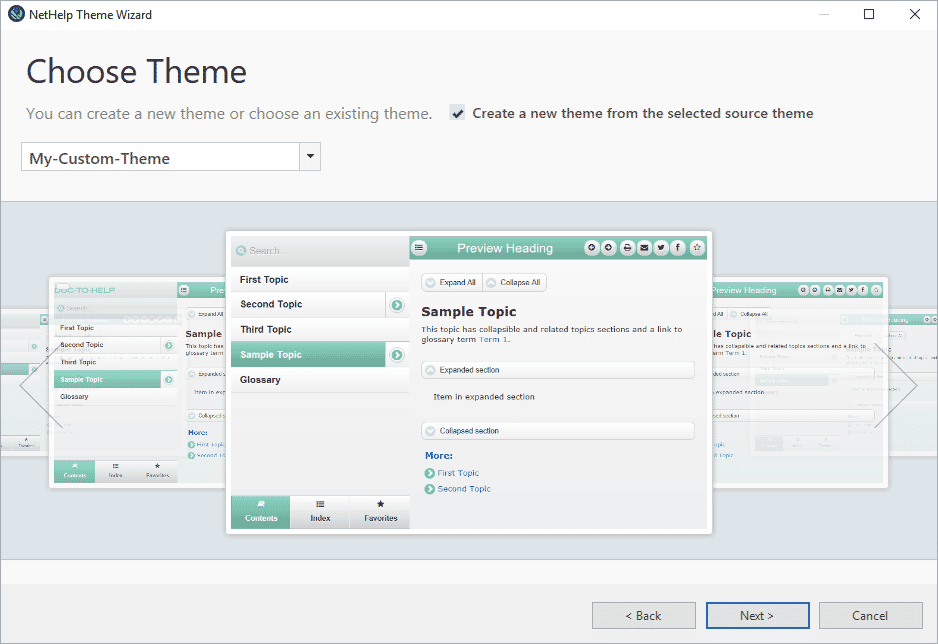 Streamline Localization with Multiple-Language Support and Integration with MadCap Lingo
Generate output in any Windows-supported language, use Unicode characters, Use SharePoint® Translation Management Libraries, Choose your spell checking language, and import Doc-To-Help directly into MadCap Lingo.
Considering a Move Beyond Microsoft® Word to
Author and Manage Content?
MadCap Flare is the leading software application used to create, manage and publish technical, medical and policy documentation. Key features include its patented XML editor, multi-channel publishing, single-sourcing and integrated cloud-based editing, publishing, project and content management.
Learn More About Flare