Meet Doc-To-Help
Use Doc-To-Help along with Microsoft® Word to produce Online Help, Web, mobile, eBook, or print-based deliverables. Used by content developers, technical writers, HR managers, medical writers, and subject matter experts, Doc-To-Help is ideal for users who want to create and manage content in a familiar chapter-based Word environment.
GET STARTED ON A FREE 30-DAY TRIAL
Authoring and Publishing Using Microsoft® Word
Doc-To-Help offers advanced authoring and publishing capabilities using Microsoft® Word to create online help, policy & procedure guides, eBooks and more.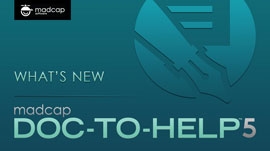 See What's New in Doc-To-Help 5
View Doc-To-Help's Online Help
Unlock Content Stuck in Microsoft® Word and Transform It into Any Output
Write or Import Your Content
Use Doc-To-Help and Microsoft® Word to write content or import documents you already have. You only need to author a single set of content and Doc-To-Help will automatically publish multiple types of output.
Choose from a List of Outputs
Use up to nine different types of output to publish your content. Conditional tagging features allows you to customize the content for each of the target platforms (e.g. online Help and printed manual) or create multiple versions of one type of output (e.g. Enterprise and Standard editions of Online Help or teacher and student training manuals).
Publish Content Where Your Readers Need It
Each output is professionally designed and is formatted for its platform. These include Help files for desktop software, online Help for the Web, content for mobile devices, eBooks, and printed manuals.
Create Common Document Types Quickly with Templates for Print and Web-based Content
Doc-To-Help provides predefined templates to determine how your content will look and work, making it easy to create common document types such as policies & procedures guides. Built-in templates include:
Employee Handbook Template
Policies & Procedures Template
Software Documentation Template
Service
Team
Template
Plus sample projects including:
Sample Project (English) with Outputs for:

CHM
Responsive NetHelp
Print

Sample Project (German) with Outputs for:

CHM
Responsive NetHelp
Print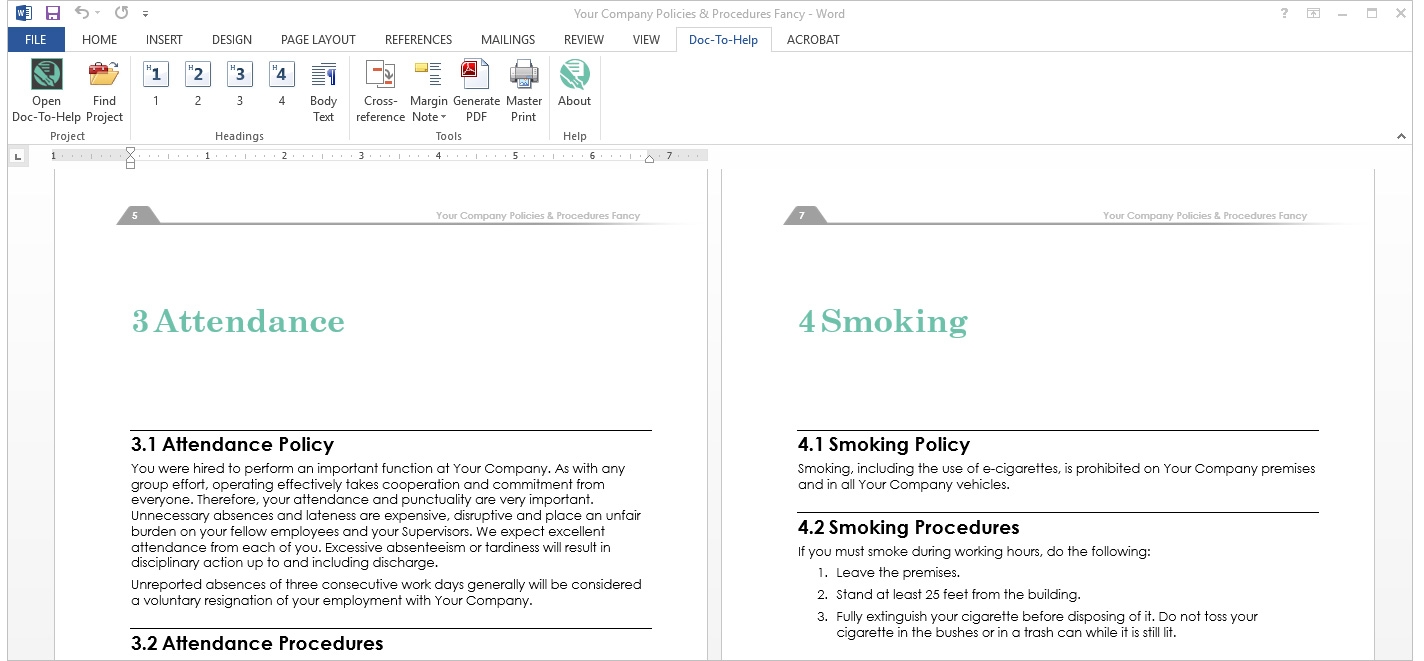 Take Advantage of Professional Pre-Written Manuals for Employee Handbooks and More
The professional pre-written manuals included with MadCap Doc-To-Help are rich with content, and include everything you need to customize important documents to fit your organization.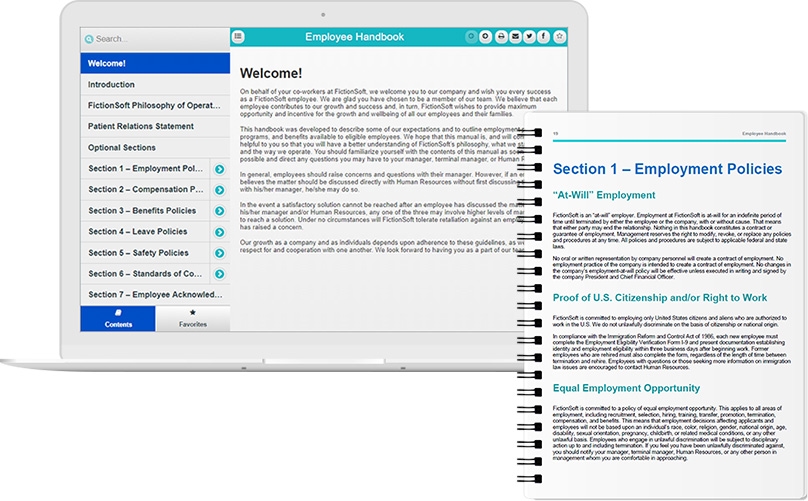 Author in a Familiar Environment Using Word and Use
Existing Content
If you love Word, Doc-To-Help is the perfect technical authoring tool for you! Doc-To-Help offers the industry's best support for Word authors. Rather than forcing you to convert Word documents to a different format, we install a toolbar in Word to bring all of Doc-To-Help's features to your editing interface. When you choose Doc-To-Help, your content stays in Word™.
Use built-in or custom templates
Insert video and Doc-To-Help will automatically exclude it from print
Margin notes automatically become pop-ups in online outputs
Links become cross-references in print outputs and cross-references become links in online outputs
Use image maps
Note: Microsoft® Word 2010 or newer required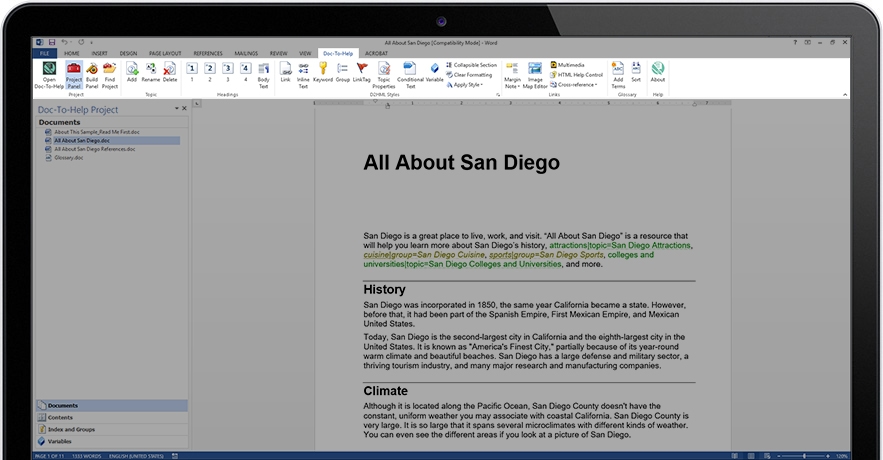 Quickly and Easily Create Training Manuals, User Guides, Knowledge Bases and More
Doc-To-Help makes it easy to automate the content creation, management, and publishing process. With Doc-To-Help, you can create:
Documentation and User Assistance
Policies, Procedures, and Regulations
Training Manuals
Hardware User Guides and Technical Manuals
Support and IT Knowledge Bases

Publish to Multiple Outputs Including Responsive Web, PDF, ePub and More
Write Once, Publish Anywhere
Conditional tagging features allows you to customize the content for each of the target platforms (e.g. online Help and printed manual) or create multiple versions of one type of output (e.g. Enterprise and Standard editions of Online Help or teacher and student training manuals).
Doc-To-Help's Web-based output is responsive (adjusts itself to the device's screen size) and is touchscreen-enabled.
Include an advanced search engine in all online outputs
Publish online content that conforms to Section 508 standards
Choose from 13 languages for the interface (includes right-to-left support)
Include Google tools (Translate, Search, Analytics)
Easy to deploy
Include Mark of the Web
Publish eBooks, PDF, and Press-ready Manuals
Give your readers manuals in the format they want by choosing to create them in EPUB or PDF. Doc-To-Help's EPUB output can display on virtually any reader (even Kindle after an easy conversion to Kindle's mobi file format) while PDFs can be sent straight to press or made available on the Web. Both formats are professionally polished.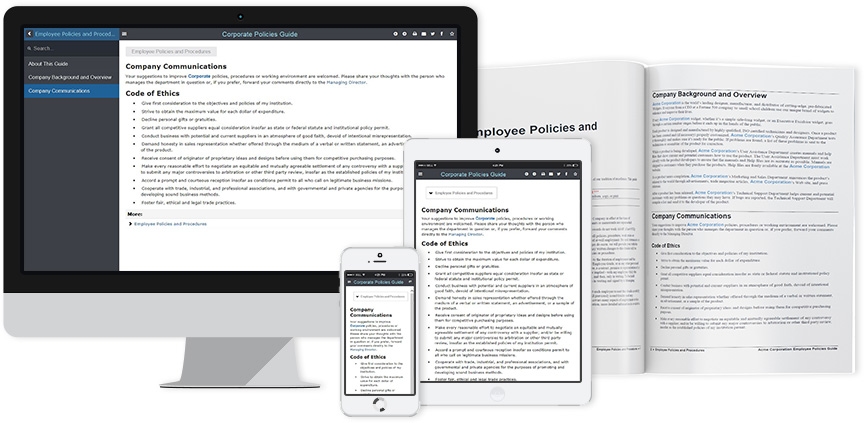 By using Doc-To-Help, Help now is integrated into the application. Thanks to Doc-To-Help we now have a centralized approach for managing all Data Portal Help Content (manual, user guide, procedures, etc.) generated by document creators/SMES from various departments."
—Doreen Marson | Technical Documentation Specialist, GSOC
Leverage Content You Already Have with Easy Importing Features
Doc-To-Help makes it easy to import or convert existing content including Microsoft® Word and RoboHelp® projects.
Import: Don't waste time with copy and paste. Doc-To-Help will import the Word-based manuals you already have and typically be ready to produce any of its outputs in minutes.
Convert: You can also convert RoboHelp® projects, HTML files, HTML Help projects, and WinHelp projects.

Choose Professional Built-In Output Themes or Customize Your Own
Choose from a list of professionally designed, built-in themes and interface languages or use Doc-To-Help's visual theme designer to create new themes that match your web site or application look and feel.

Streamline Localization with Multiple-Language Support, Integration with MadCap Lingo
Generate output in any Windows-supported language
Use Unicode characters
Use SharePoint® Translation Management Libraries
Choose your spell checking language
Import Doc-To-Help directly into MadCap Lingo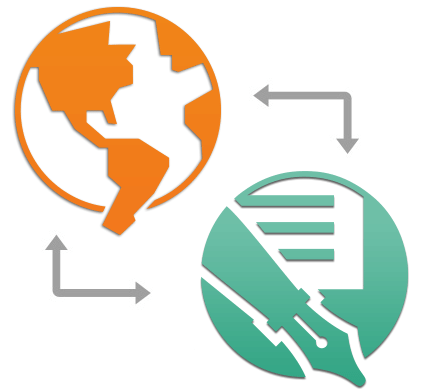 Use Conditional Tags to Map Content to Outputs
Conditional tags allow you to map any type of content to a specific output. For example, you may want to include a video for online output and replace it with a static image for manuals. This feature is also useful for creating student/teacher or internal/external versions of your deliverables. Doc-To-Help also includes automatic conditional content features. Print-based cross-references become links in online outputs, for example. This just scratches the surface. Conditional content technology is the secret sauce that will save you tons of time!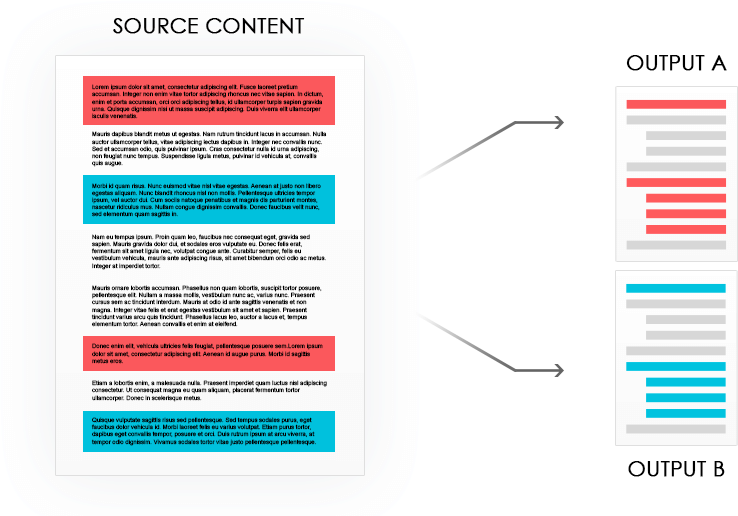 Facilitate Source Control and Collaboration
Doc-To-Help gives you technology to help manage content and workflow. Choose between Doc-To-Help's own source control technology, Microsoft® SharePoint® or Microsoft® Team Foundation Server® for check in/out features, version history, and review workflows.

Save Time by Letting Doc-To-Help Do the Work for You
Doc-To-Help makes it easy to create topics, Table of Contents, breadcrumbs and more.

Automatic topic creation
Automatic related topic links
Automatic Table of Contents
Automatic breadcrumbs
Automatic glossary links
Automatic Index inclusion/exclusion
Editable, self-validating code
Looking to Move Beyond Microsoft® Word? Use MadCap Flare for Advanced XML-based Authoring, Publishing and Content Management.

---
Speed content delivery and maximize content reuse with the advanced
topic-based authoring and single-source publishing solution.