Professional Pre-Written Manuals Included with MadCap Doc-To-Help License Purchase
Does your organization need important documents such as an employee handbook and other policy manuals, but you lack the time and resources to write each document from scratch? The professional pre-written manuals included with MadCap Doc-To-Help are rich with content, and include everything you need to customize important documents to fit your organization. Designed exclusively for Doc-To-Help, save time and get the important information your staff needs quickly and easily.
About the Professional Pre-Written Manuals
All MadCap Doc-To-Help pre-written manuals are easy to customize, and feature text variables (Company Name, Job Titles, etc.) which allow you to update information in one place and apply them throughout the document. Once the document has been customized, you're ready to publish PDF documents, websites and more, all from within Word using MadCap Doc-To-Help. A preview of the manuals are available below.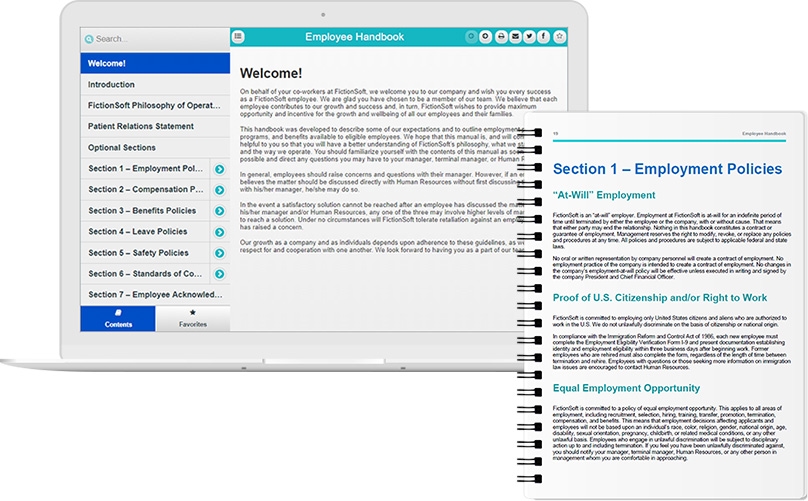 Employee Handbook
The Employee Handbook manual includes comprehensive information on employee policies and procedures, covering topics such as compensation, benefits, standards of conduct and more.
The complete manual contains:
Cover Page
Table of Contents (TOC)
Section 1: Employee Policies
Section 2: Compensation Policies
Section 3: Benefits Policies
Section 4: Leave Policies
Section 5: Safety Policies
Section 6: Standards of Conduct and Corrective Action
Section 7: Employee Acknowledgement Form
PREVIEW THE PDF MANUAL
PREVIEW THE WEB VERSION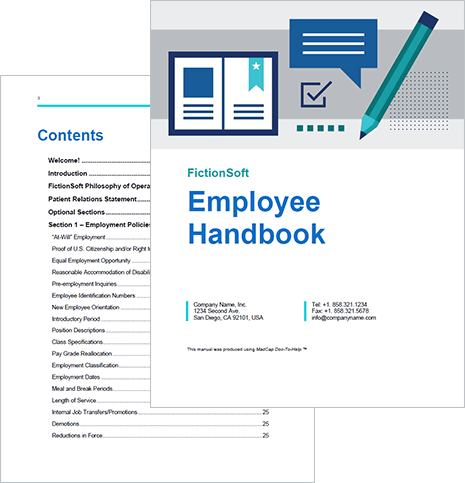 Medical Office Policy and Procedure Manual
The Medical Office Policy and Procedure Manual contains comprehensive information on health care and administrative standards that can affect day-to-day operations.
The complete manual contains guidelines on:
Operational Policies for Physicians and Staff
Medical Office Facility Standards
Office Visits
Consent Policies
Prescriptions
Patient and Office Safety
Emergency Plan Procedures
Infection Control
And more
PREVIEW THE PDF MANUAL
PREVIEW THE WEB VERSION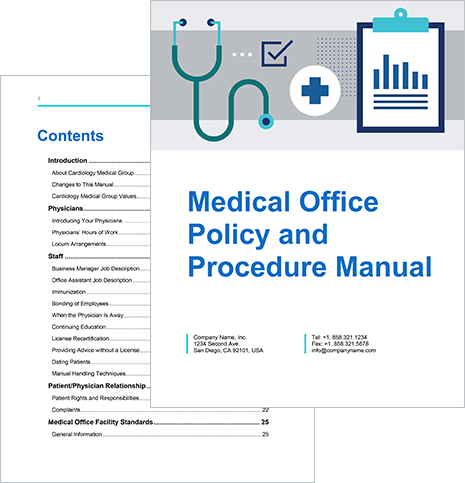 Legal Disclaimer: Documents may not reflect the compliance issues relevant to your state, locality or organization. Any materials created with these documents should be reviewed by your legal counsel for compliance with federal and state laws and regulations and should be modified to suit your organization's culture, industry and practices.