Online Help, Documentation and User Assistance
Your software users' success is only limited by the quality and accessibility of the instructions, help, and documentation you make available to them. Depending on the nature of the applications, you may require guidance in one or more of these forms: online Help (viewer launched from the interface), online Help on your website, content on their mobile devices, and printable PDF manuals.
Technical writers and developers use Doc-To-Help to write online help sites, software manuals, knowledge bases, guides, and other instructions and publish to as many of these formats as they need. The key is that they only need to create content once and then publish where they need. This saves them from the need to rework content for each format and makes it easy to put the information where their users need it.
How Does Doc-To-Help Work?
Create Accessible Content
When it comes to writing effective online help and documentation, it's vital to make sure that content is readable and clearly organized. Doc-To-Help make it easy to write and edit documentation, all from a familiar authoring environment. With features such as conditional tags, source control and localization support, Doc-To-Help can help you ensure that your online help and documentation is readily accessible to the audience, when they need it.
Easily Manage and Collaborate from Word
When updates need to be made, Doc-To-Help makes it easy to apply changes to a single, master document and apply across multiple versions. Doc-To-Help improves the content workflow by creating a help portal with automatically generated TOC, "See also" links, search engine, and more. Updating is simple – you only need to author a single set of content and publish to the output you need.
Deliver to Online Audiences
Doc-To-Help gives technical writers and content developers the flexibility they need when delivering online help and documentation to users. Give your readers the format that they need, in responsive web, PDF, ePub, mobile, and more. Content can also be published as print-ready documents, eBooks or mobile deliverables, which can then be quickly distributed to internal audiences, customers, and users.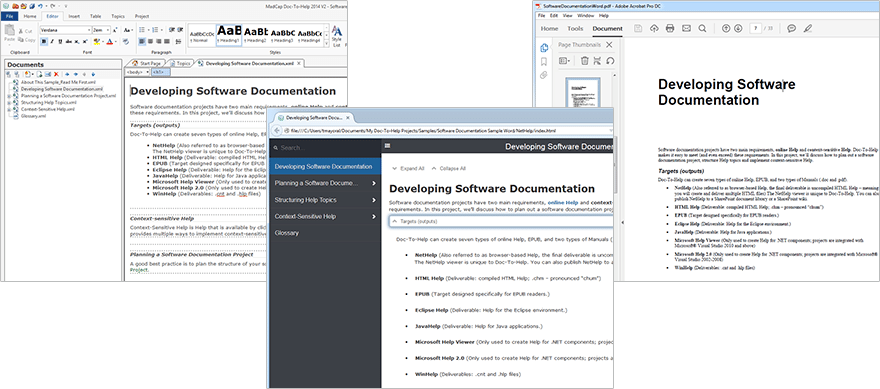 The project in the images above is the Software Documentation sample installed with Doc-To-Help. This sample exists to help you get started with software documentation. Pictured from right to left: A topic in Doc-To-Help's content editor, NetHelp output viewed in a browser, and a printable PDF.